Orphan Drugs – Meeting Global Unmet Health Needs
There over 350million people globally affected by one or more of the 7000+ known rare diseases, for which only 5% have a licenced treatment. Developing cures for this vastly unmet need is fraught with immense challenges for pharmaceutical companies committed to curing rare. Here we give a brief overview of this industry.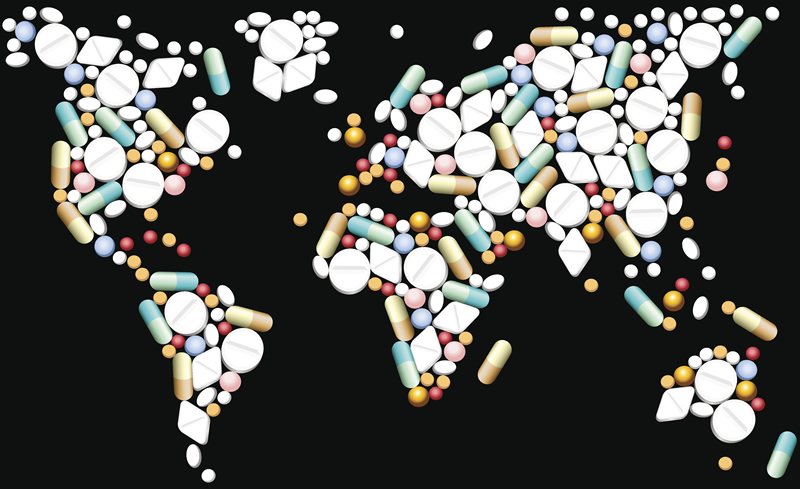 What is an Orphan Drug?
An orphan drug is one intended to treat a rare disease or disorder, sometimes referred to as an Orphan or Ultra Orphan disease. These drugs are responding to an unmet public health need rather than for economical reasons. In order to encourage drug development in this challenging area, where limited profits may make it unviable to companies, the development of orphan drugs has been incentivised through a number of government initiatives namely the 1983 US Orphan Drug Act. The success of this original Orphan Drug Act in the USA lead to other countries adopting versions, notably Japan in 1993 and Europe in 2000.
What Constitutes a Rare Disease?
A rare disease in qualified as:
Less than 200,000 patients in the USA
5 in 10,000 in Europe
Less than 50,000 patients in Japan
What Constitutes an Ultra-Rare Disease
A Rare disease is generally considered to be an ultra-rare disease when it affects 1 in 50,000. Drug development in this area is exceptionally challenging with the largest problems faced being recruitment for clinical trials and having health boards accept the high costs associated with developing therapies and drugs in this area.
Both NICE and the FDA have Ultra-Rare Act policies in place to help to mitigate against these issues and in Scotland the Scottish Medicines Consortium have compiled a policy for the Management of Ultra- Orphan drug requests.
Financial Incentives
With high development costs and small beneficiary targets, drug development for Rare and Ultra-Rare conditions did not make viable economic sense to pharmaceutical companies and prior to the 1983 Orphan Drug Act only 38 Orphan Drugs had FDA approval in the United States. The National Organization for Rare Disorders (NORD), was instrumental in the creation of the Orphan Drug Act in 1983, which created financial incentives for the development of treatments for rare diseases.
The success of this act can be seen in the 2018 study released by the IVQIA Institute this month (October 2018)
The Orphan Drug Act remains successful in encouraging the development and approval of orphan drugs. In 2017, the Food and Drug Administration approved 80 orphan indications and 57 just within the first eight months of 2018 — shattering previous records.
The full report commissioned by NORD can be downloaded here.
Overview of Financial Incentives
Market Exclusivity
During this period regulatory bodies are barred from approving the same product for the same orphan indication. Single products holding separate orphan designations for different indications can hold separate market exclusivities, which can run concurrently.
USA: Seven years market exclusivity from approval date
Europe: Ten years market exclusivity from approval date
Japan: Ten-year registration validity period (also known as re-examination period)
Reduced Research and Development Costs
USA
50% tax credit on research and development costs
R&D Grants for Phase i– iii Clinical Trials
Waived user fees for regulatory submissions
EU
Reduced cost for EMA protocol assistance
Reduced administrative and procedural assistance for small and medium sized enterprises
European Commission, Horizon 2020 and E-Rare grants available
JAPAN
Orphan products subsidised through National Institute of Biomedical Innovation (NIBIO)
Reduced fees for guidance and consultation through the Pharmaceuticals and Medical Devices Agency (PMDA)
12% of study expenses incurred during NIBIO payment period can be reported as tax credit
Orphan Growth
According to EvaluatePharma® Orphan Drug Report 2018 Orphan Drug sales are set to grown by 11% year on year through to 2024 reaching $262bn. This growth is based mainly on sales of existing approved products as opposed to those looking to be developed with in this timeframe. With orphan drugs accounting for a fifth of all prescription drugs by 2024 it is an exciting time for patients and patient groups driving innovations.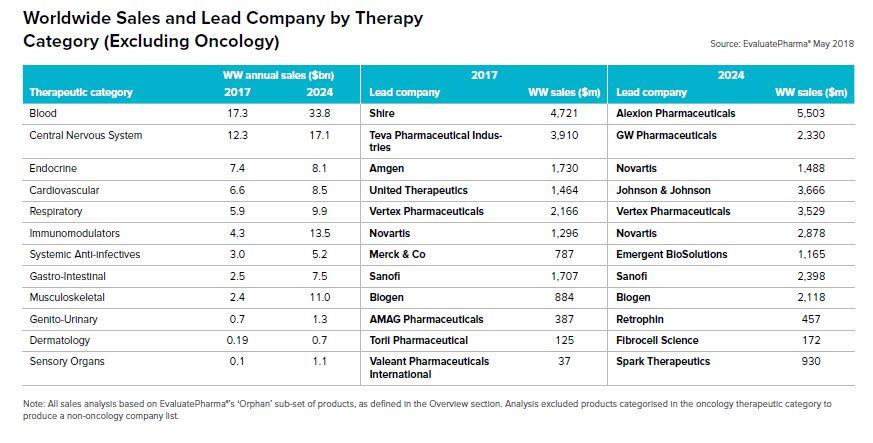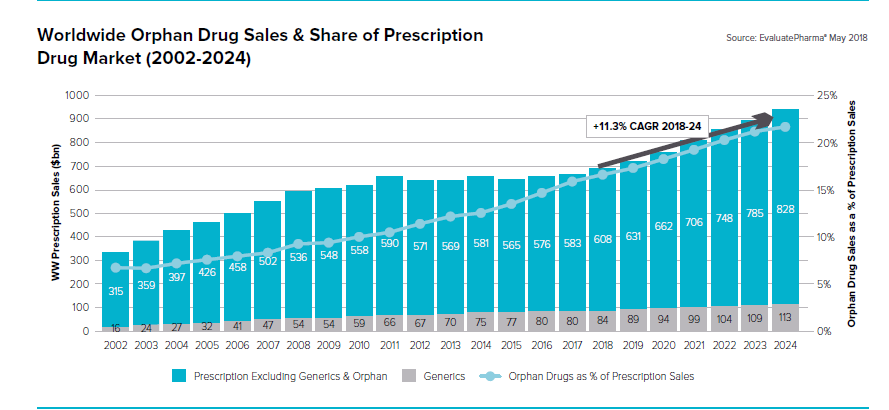 The Role of the European Medicines Agency and Orphan Drugs
The European Medicines Agency (EMA) is responsible for reviewing eligible applications from sponsors for orphan designation. The qualifying criteria for orphan designation:
it must be intended for the treatment, prevention or diagnosis of a disease that is life-threatening or chronically debilitating;
the prevalence of the condition in the EU must not be more than 5 in 10,000 or it must be unlikely that marketing of the medicine would generate sufficient returns to justify the investment needed for its development;
no satisfactory method of diagnosis, prevention or treatment of the condition concerned can be authorised, or, if such a method exists, the medicine must be of significant benefit to those affected by the condition.
Application for orphan designation are examined by the EMA's Committee for Orphan Medicinal Products (COMP)
Applications are examined using a network of experts and the evaluation process takes a maximum of 90 days from validation.
For information on how to apply, see how to apply for orphan designation.
This COMP opinion is then sent to the European Commission, which is responsible for granting orphan designation. The full list of orphan designations is available in the Community register of orphan medicinal products for human use.
What does this all mean for patients?
With interest from pharma both big and small in tackling the unmet health needs of rare disease patients it brings great hope for the future. However, with patients still experiencing an average of 4.5 years to reach a diagnosis and with 6000 children born each year in the UK alone with an undiagnosed disorder, being able to access these potentially life saving treatments may still be beyond reach.
With conditions such as Fabry Disease (See our Fabry Blog) having an estimated 80% undiagnosed rate this highlights the challenges that still face patients even when treatment options are available.
More needs to be done to ensure that patients are diagnosed quickly and accurately to allow those with existing treatment options access to drugs at the earliest possible point, maximising benefits of treatment efficacy and improving quality of life outcomes.
Mendelian strives to make a dramatic impact in supporting healthcare professionals to reach accurate and quick diagnosis for undiagnosed patients allowing them to access the existing and new treatments and therapies being developed by the orphan drug industry.
Resources
If you liked this article maybe you will also find interesting the following in-depth articles about other rare diseases, like Autism Spectrum Disorders: Definition and top 150+ rare diseases related to them. 10 million patient-disease scans: 5 lessons we've learned Speaker Series - Niemann-Pick Disease Type C Empowering doctors in rare disease diagnosis Retrospective analysis suggests MendelScan saves 3.5 years of medical and financial burden in Behçets disease